Did you know that it is recommended to change your safety harnesses every two years? According to the SFI Foundation, [1] "a non-profit organization established to issue and administer standards for the quality assurance of specialty performance and racing equipment", due to UV exposure, excessive force, untreated webbing, etc., safety harnesses degrade and greatly increase your chance of injury in the case of an accident.
There are many factors that contribute to the wear and tear of safety harnesses so much so that it is imperative to update them every two years.

PRP Seats attributes improper installation and the material of the straps to the deterioration of safety harnesses. When the straps are installed incorrectly, they move to one side of the connecting hardware and greatly reduce the amount of weight it can handle. You can tell your safety harnesses are installed correctly when they [2] "pull flat and evenly."
Additionally, a strong harness should be made out of polyester rather than nylon. [2] "Nylon is known to absorb moisture and loses some of its strength when that occurs. Polyester materials repel water and retain their ability to stretch".
When it comes to purchasing new safety harnesses, be sure to look for the SFI tag to make sure it's approved for off-roading.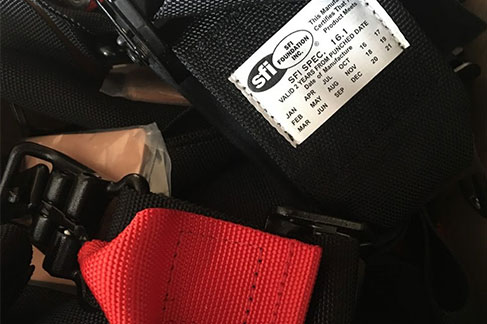 All of the safety harnesses offered at SidebySideUTVParts.com are SFI rated for recreational driving, not racing. It is important that we share the exact specifications of our safety harnesses so our customers know the durability and quality of the product they are purchasing.

SidebySideUTVParts.com offers four and five point safety harnesses with 2 and 3 inch straps. We guarantee that you will find the safety harness perfect for your body and driving style. Keep scrolling to see the options we have to optimize your safety.
---
SideBySideUTVParts.com Safety Harnesses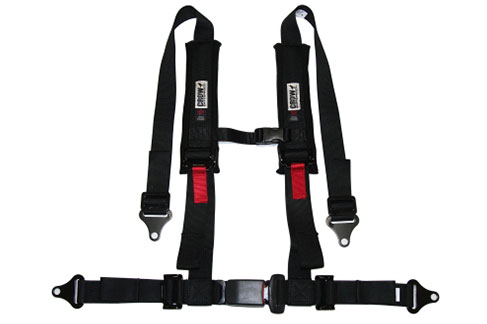 Crow 4 Point 2" Harness
Sewn in shoulder harness padding for ultimate comfort
52 inch lap belts bolt to factory seat belt mounts
Easy pull down hoops
Adjustable lap and sternum strap to accommodate all riders
Quick release standard latch
Available in black, blue, grey, purple and red
Offered with 3" webbing as well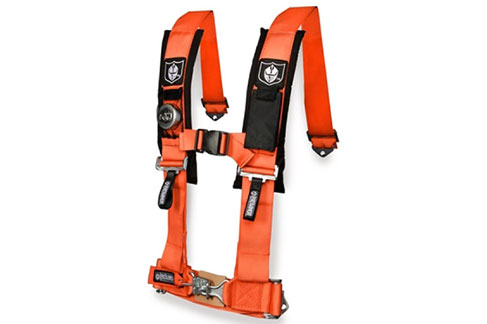 Pro Armor 4 Point 3" Harness
Sewn in shoulder pads
Secure latch and link system
Simple lap latch release
Easy to use, adjustable sternum buckle
Mesh pocket for small belongings
Water resistant pocket for cell phone
Offered with 2" webbing as well
Also offered in 5 point with an adjustable sternum strap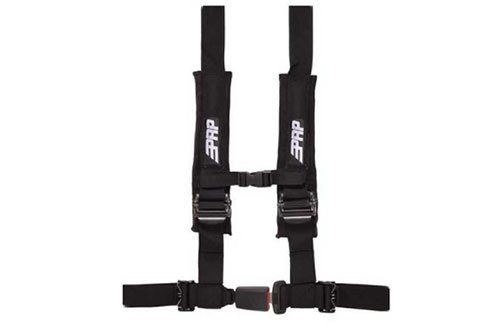 PRP 4 Point 2" Harness
Padded shoulder straps
Simple automotive style latch attachment
EZ shoulder strap adjustors
Quick sternum buckle
All black hardware
Offered with 2" webbing as well
Also offered in 5 point with an adjustable sternum strap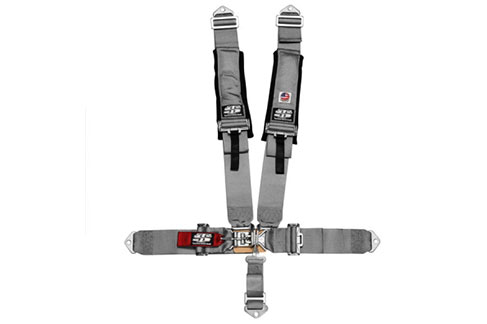 Twisted Stitch 3" 5 Point Harness


Padded shoulder straps
Standard latch and link
SFI approved for racing
Easy to configure
Quick release
Offered with 2" webbing as well
Also offered in 4 point with an adjustable sternum strap
To find additional safety products, visit SideBySideUTVParts.com today. Feel free to give us a call at 1-888-849-3727 to learn about the best products for your machine or if you need help with installation.
---
References
[1] SFI Foundation. (n.d.) About SFI Foundation. [SFI Foundation Online Bio]. Retrieved on 02/07/2018 from http://sfifoundation.com/about-sfi-foundation/
[2] PRP Seats. (2017). Why You Should Replace Your Harnesses Every Two Years. [PRP Seats FAQ]. Retrieved on 02/07/2018 from https://www.prpseats.com/replace-harnesses-every-two-years/